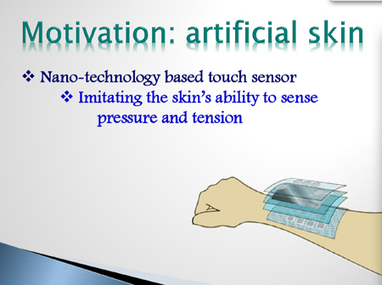 Using tiny gold particles and a kind of resin, a team of scientists at the Technion-Israel Institute of Technology has discovered how to make a new kind of flexible sensor that one day could be integrated into electronic skin, or e-skin. If scientists learn how to attach e-skin to prosthetic limbs, people with amputations might once again be able to feel changes in their environments. The findings appear in the June issue of ACS Applied Materials & Interfaces.
The secret lies in the sensor's ability to detect three kinds of data simultaneously. While current kinds of e-skin detect only touch, the Technion team's invention "can simultaneously sense touch, humidity, and temperature, as real skin can do," says research team leader Professor Hossam Haick. Additionally, the new system "is at least 10 times more sensitive in touch than the currently existing touch-based e-skin systems."
Researchers have long been interested in flexible sensors, but have had trouble adapting them for real-world use. To make its way into mainstream society, a flexible sensor would have to run on low voltage (so it would be compatible with the batteries in today's portable devices), measure a wide range of pressures, and make more than one measurement at a time, including humidity, temperature, pressure, and the presence of chemicals. In addition, these sensors would also have to be able to be made quickly, easily, and cheaply.
See on www.ats.org