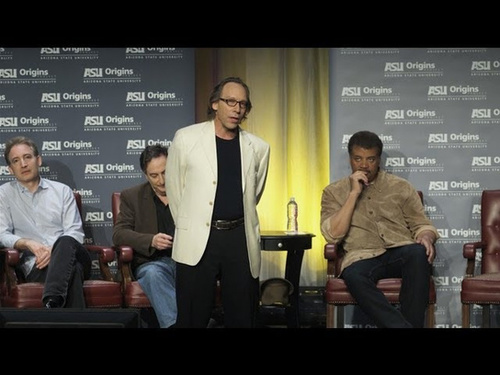 Must Watch: Dawkins, Nye, Tyson, and Stephenson Discuss Science and Storytelling
"Without hyperbole, it is true that i don't think there has ever been on one stage an assembly of science storytellers and communicators like this," said theoretical physicist Lawrence Krauss of the panelists assembled for the debate featured here. We're inclined to agree with him.
After all, it's not every day you get astrophysicist Neil deGrasse Tyson, evolutionary biologist Richard Dawkins, theoretical physicists Brian Greene, executive director of the World Science Festival Tracy Day, Science Friday's Ira Flatow, acclaimed science fiction author Neal Stephenson, and Bill "The Bowtie" Nye under one roof chinwagging about "the science of storytelling and the storytelling of science" – but when you do, you do it in a massive auditorium, and you sure as hell record it for posterity.
This is "The Great Debate: The Storytelling of Science," and it features, as Krauss indicates, probably one of the most engaging scientific dream teams to ever congregate in one place. At over two hours long (Part One, above, is just shy of 90 minutes; Part Two, below, runs for just over 45), it's pretty long, but it's definitely something you'll want to set aside time for – if not for today then some time this weekend. Part One features presentations from each of the panelists on their experiences with science and storytelling. Part Two is devoted to a rousing question and answer session, featuring thought-provoking, discussion, debate and dissenting opinion.
See on io9.com